How Beatties realized a 167% return on their inbound marketing investment
Modernizing an office supply business and transforming it into a digitally-focused organization is a pretty big challenge (just ask Michael Scott and the team at Dunder Mifflin).
Beatties, an Ontario-based office retail business, has been around since the turn of the 20th century. And while their old-fashioned values – like a focus on customer service and a commitment to giving back to their community – have kept them going for more than 100 years, the business needed help modernizing their marketing strategy for the digital age.
That's where Human_Code came in – and helped Beatties achieve an impressive 167% return on their marketing investment.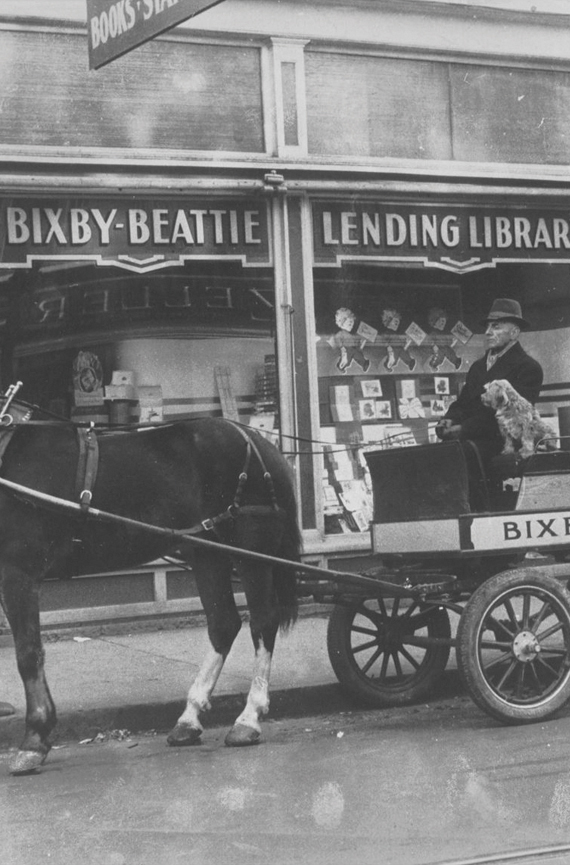 Beatties wanted to digitize their operations quickly. But as a small business, they didn't have a huge marketing budget to work with, or the in-house resource or skillset to do it themselves.
With more than 100 employees and two retail locations, Beatties had just one person managing marketing, procurement and merchandising for the business. They needed the capabilities of an established digital marketing agency to help them move forward.
The pressure to improve the company's digital presence was coming from many internal stakeholders and departments – especially sales. Sales managers felt the current website wasn't working hard enough, and their teams needed a more robust collection of marketing collateral and assets to help convert prospective leads into customers.
Beatties knew that their current marketing strategy wasn't adequately showcasing their strengths or their personality. Their website used a lot of corporate jargon that really wasn't them. They needed to rebrand the business in order to communicate their values and positioning more effectively.

Working alongside the team at Human_Code, Beatties spent six months working on a refreshed identity for the business. This involved interviewing team members, looking at their USPs and what set them apart from their competitors. We also spent time researching trends and changes in the office supply industry, looking at key challenges and opportunities within the local and national markets.

We also assessed where the key areas of growth were for the business. While office products were waning, we learned, through running a small PPC campaign, that other areas of the business, like contract office furniture, were booming.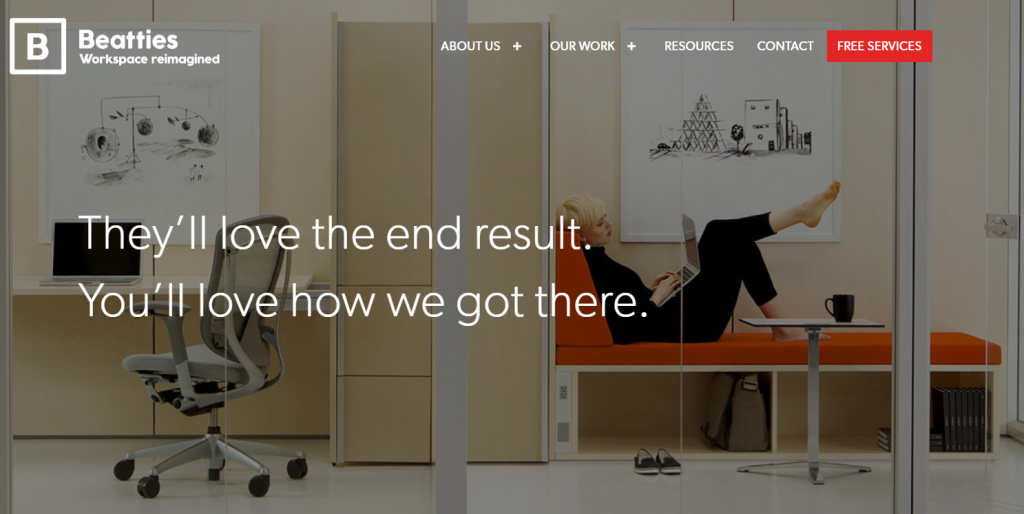 Developing an authentic brand voice was also critical for Beatties. With a long and colourful history, they wanted to avoid looking like other cookie-cutter office supply businesses and ensure every marketing touchpoint showcased their fun and engaging brand personality.
Developing a winning inbound strategy
The completed brand refresh laid the foundations for an insight-led marketing strategy. After we'd established a new identity for Beatties, we worked on building their buyer personas to inform our inbound programme, including interviews with the sales teams to discuss barriers, objections and opportunities. From there, we created targeted assets like office renovation guides, quizzes, blogs, digital ads and AdWord campaigns.

One of the most compelling elements of this new marketing strategy was its customer case studies. These assets were crafted specifically as client testimonials – letting Beattie's customer tell their story and explain in their own words how the company had provided real value. These endorsements help sell the business to prospective customers by adding authenticity to the assets.

This inbound campaign helped increase traffic to the site, turning this once brochure-like website into a hard-working lead-generation machine.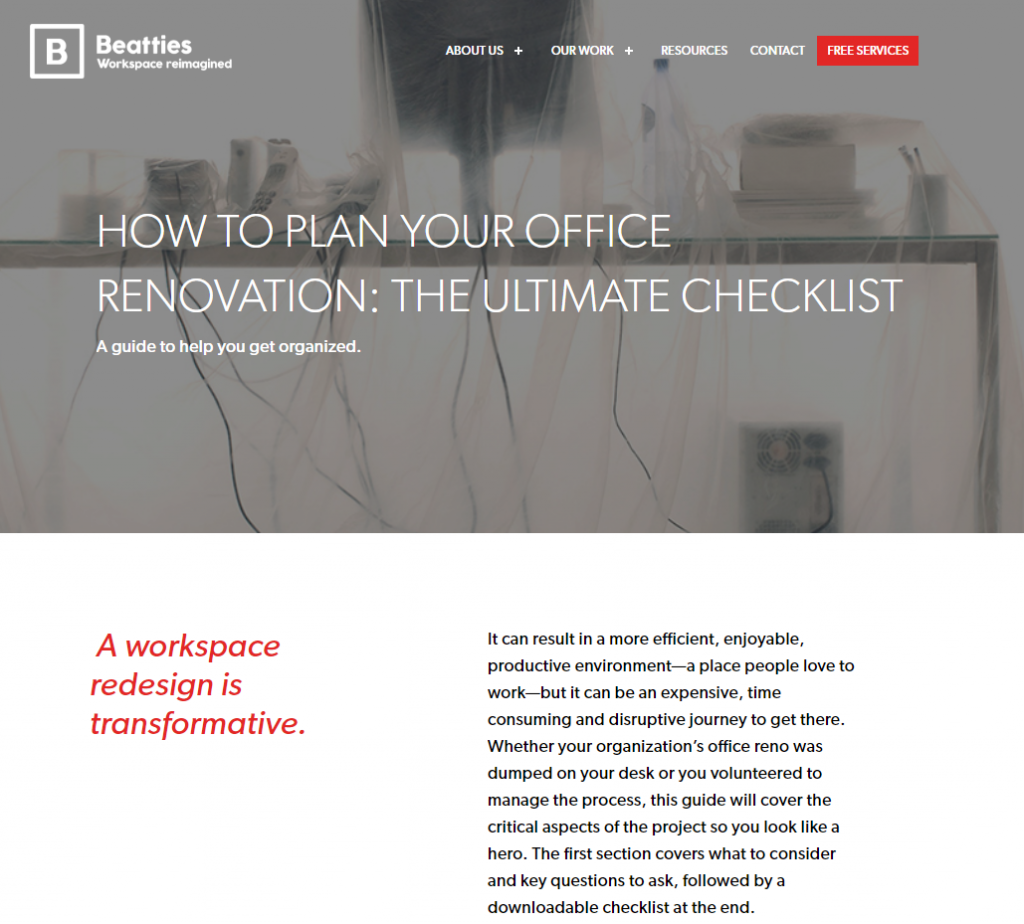 Supporting the sales team
The inbound campaign also included a lead qualification process, to help the sales team, involving sophisticated workflows based on the potential value of the business. For example, a lead for an entire office move – potentially worth upwards of $100,000 – would be immediately flagged to the sales team as high priority and put in a workflow offering high-value incentives.

As the campaign progressed, we were able to refine and segment these workflows based on data we had acquired resulting in a fully-automated lead qualification process by the end of the campaign. This strategy ensured that no leads fell through the cracks and enabled Beatties to track the performance of their activity to help calculate the return of their marketing investment.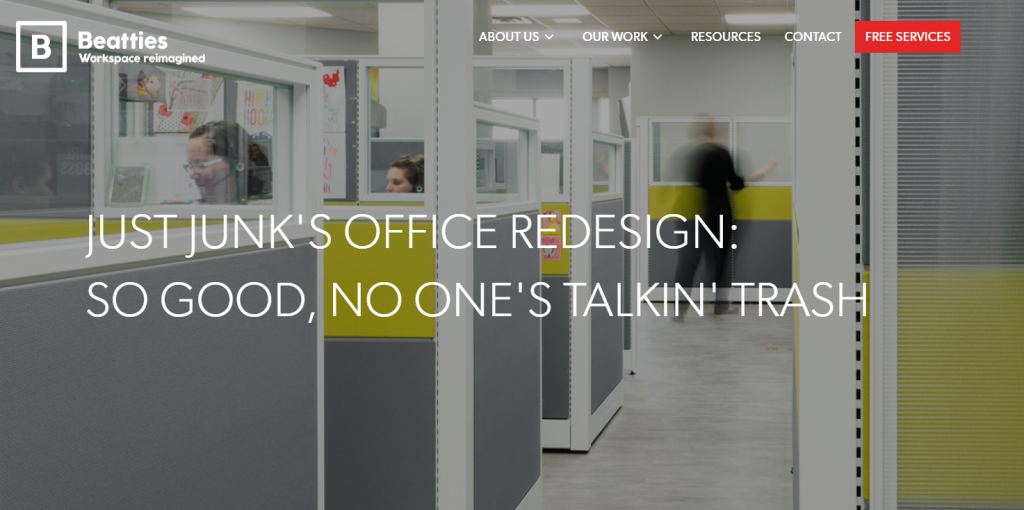 How human_code's approach stood out
Having a fresh pair of eyes on a business' sales practices and ways of working can be incredibly beneficial. For years, Beatties had offered what they thought was a relatively basic chair demo program: after an ergonomic assessment, customers would have 3 to 4 chair samples sent to their offices to trial them for a week. A chair test-drive, if you will. There was no obligation to buy but at the end of the week, Beatties says most customers did end up purchasing one of the chairs they'd trialled. The conversion rate was extremely high.

But this demo wasn't listed on their website – it was simply something the sales team could offer a prospective lead. Knowing that none of their competitors offered anything similar, Human_Code saw the potential this deal had for lead generation and created an entire campaign to help promote the chair test drive.
Investing money in a new and unknown way of doing marketing can be scary. Small businesses like Beatties take a leap of faith hoping that they'll be able to realize results from their investment. But as Michael Scott says, you miss 100% of the shots you don't take.
The rebrand and inbound strategy was very front-loaded, which meant committing a significant amount of funding from the get-go. And while the sales didn't happen overnight, once the strategies and processes were in place, leads started to come through on a regular basis and Beatties began to see the benefits an inbound marketing programme could deliver.
The pipeline has remained full since the campaign launched, with 80-90% of leads coming through being Sales Qualified.
Over an initial 18 months period, Beatties invested in a brand refresh and a supporting inbound marketing strategy. And the good news is that they say they can attribute a significant percentage of their new business growth during that time to this investment. After crunching the numbers, Beatties calculated an ROI of 167% over the lifetime of the programme.  Suffice to say, the Beatties team are increasing their inbound budget for 2020.
And the best bit? We help make our clients look good. Beatties Marketing Director Brad Steeves says when their team attends conferences, there is usually a speaker talking about the benefits of inbound marketing. Brad's proud that their business is already ahead of their competitors, investing in the latest marketing platforms and methodologies – and he knows he killed it when his boss leans over and gives him an approving nod!
Need an extraordinary agency to challenge your marketing strategy? Get in touch today to see how Human_Code can help.